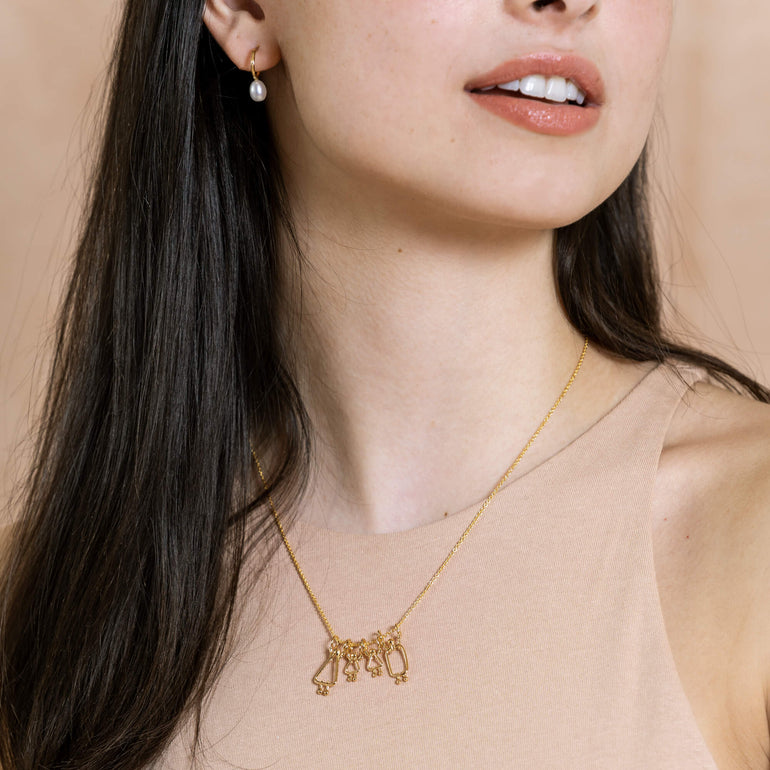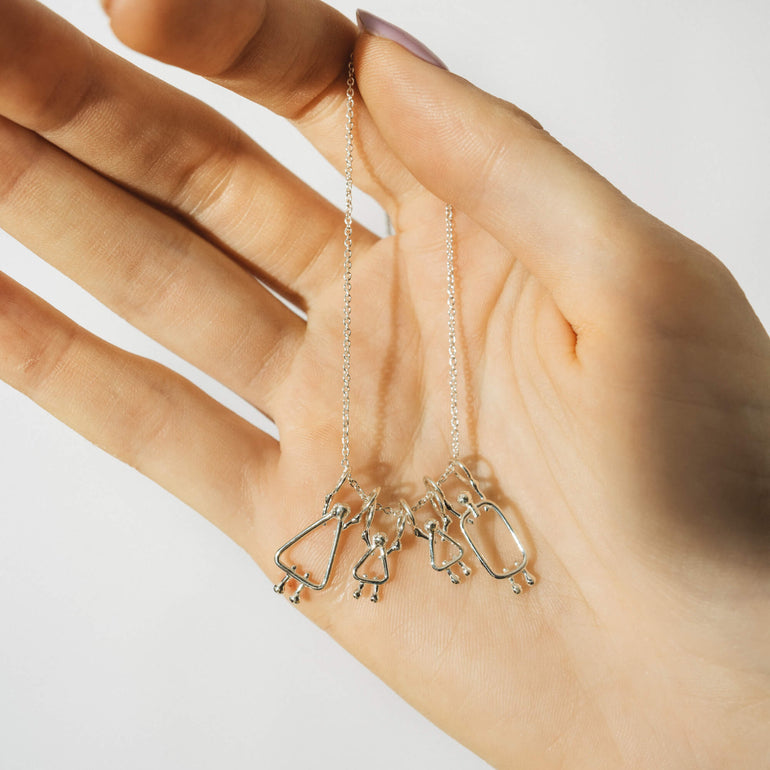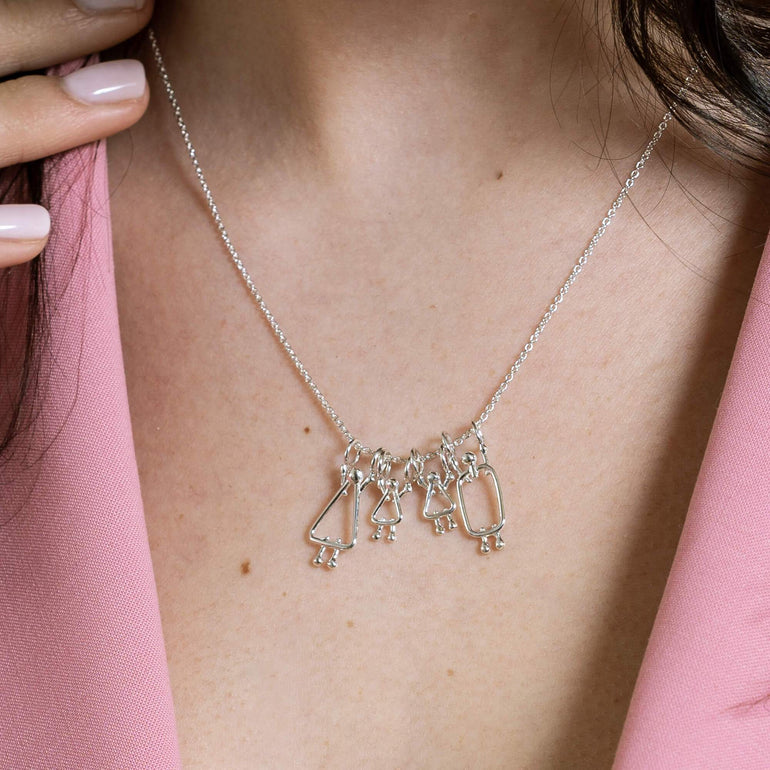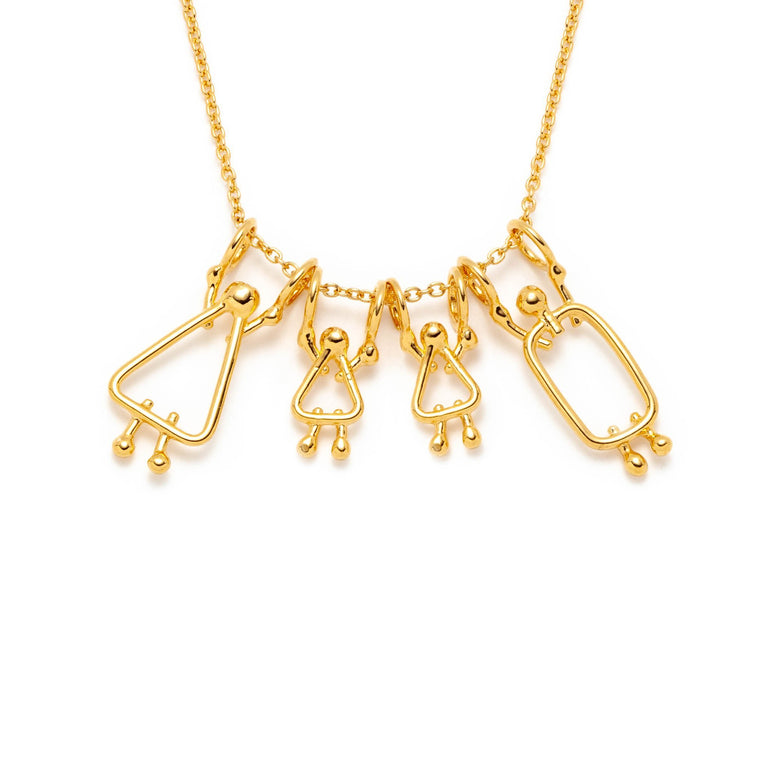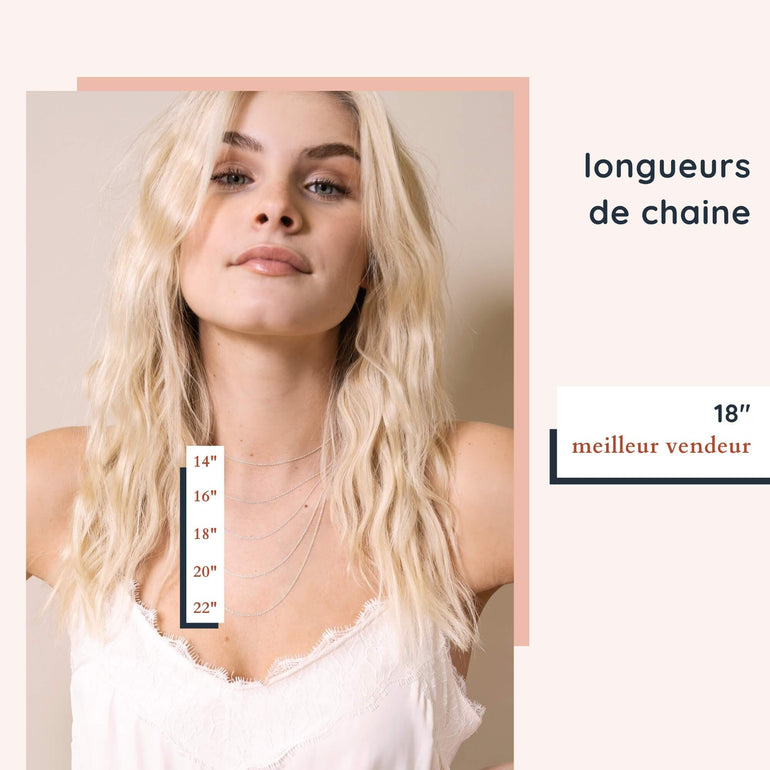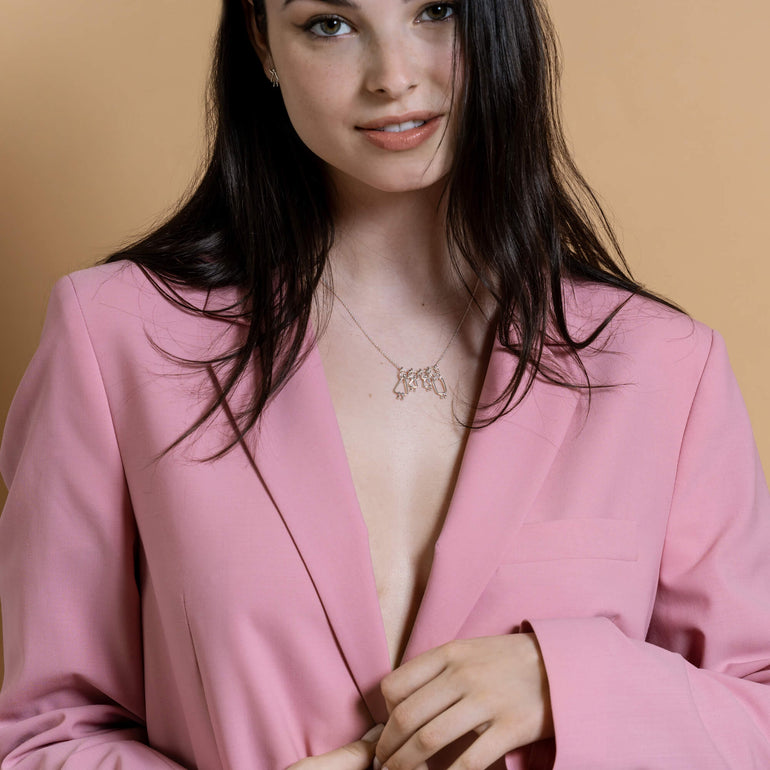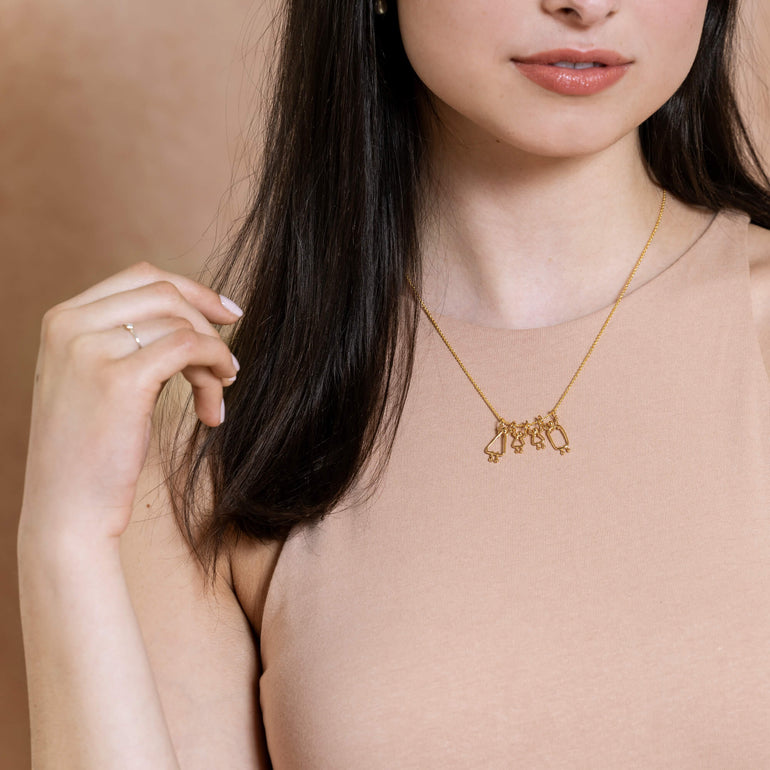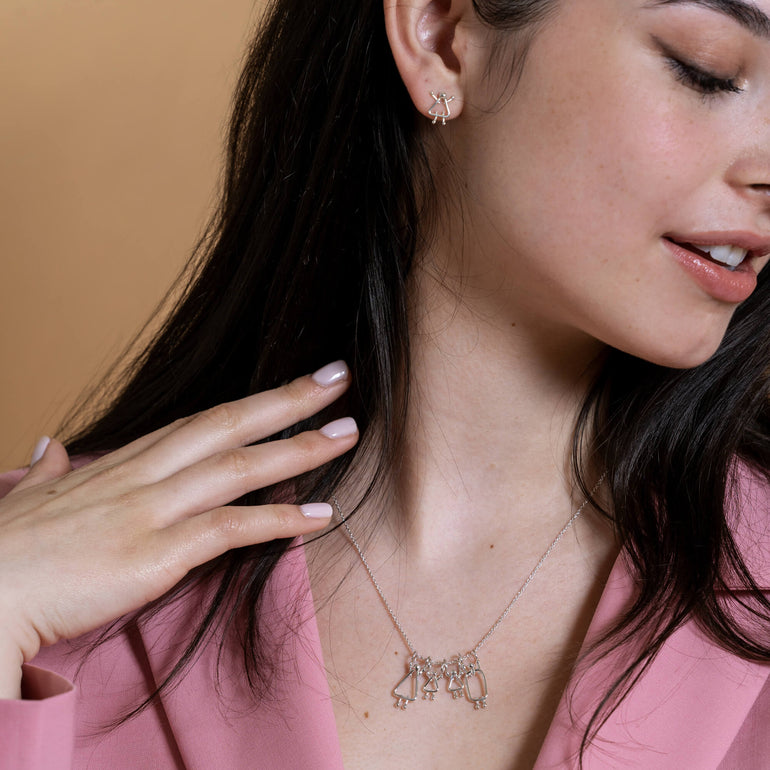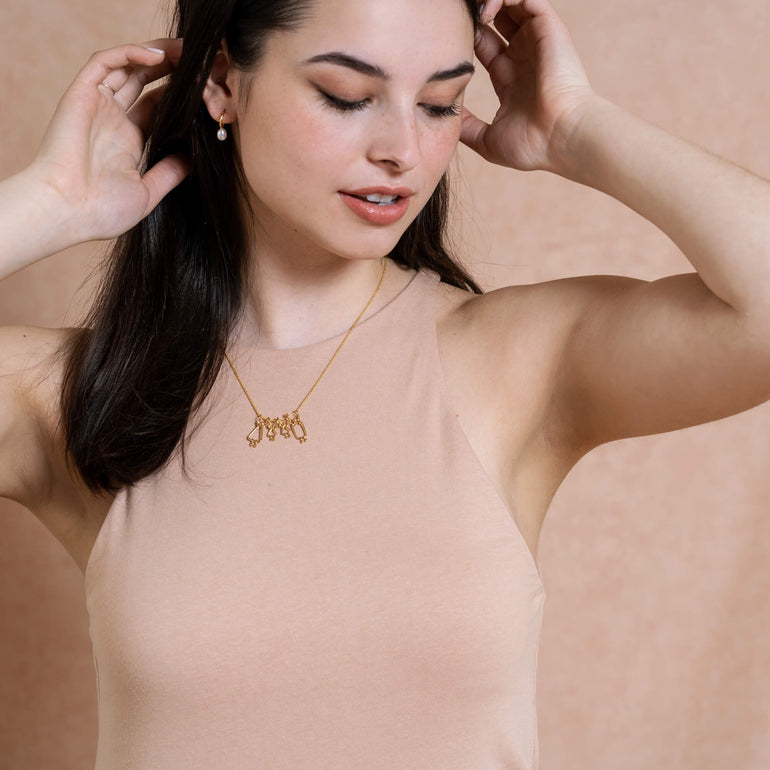 Gift for Moms of 2 Girls - Sterling Silver Necklace
Looking for a great gift to give to an amazing mom of two girls? Or to a mom of two amazing girls? 🙃 Here it is! Did you borrow her clothes and makeup when you were younger? It's time to give her a little sweetness.
This necklace with little charms depicting a mom, a dad and 2 daughters in the style of matchstick characters is sure to surprise her! She will be able to proudly wear her family with her and will be moved by this personalized gift.
Precious and delicate, this minimalist necklace is handcrafted in sterling silver or gold-plated silver, high quality materials that will stand up to the most energetic families and stay bright for a long time.
The necklace is lovingly handcrafted in a workshop in Montreal's Centre Sud district and comes in a beautiful gift box that is free with every purchase.
An Ideal Gift for a Birthday or Mother's Day
To celebrate a birthday, Mother's Day, Christmas or even a baby shower, create a gift set by adding matching earrings. It's a jewelry set that will surprise every time!
This doesn't represent your family? Not all moms are with dads! Create your own necklace with the number of parents (and their genders) and children that best represent your own family with the customizable family necklace. I believe that all families should be celebrated!
A Lucky Charm for Moms of 2 Girls
I created the family collection to celebrate the importance of family ties, whether they be blood ties, alliances, or a chosen family. The pieces in the collection are good luck charms that remind us of the love that unites humans in the same family. By wearing a necklace from the collection, your family will always be with you.
Details on the Sterling Silver Necklace for Moms
Chain length: available with a 16, 18 or 20 inch chain

Dimension of the mother pendant: 22 mm x 9 mm

Dimension of the dad pendant: 22 mm x 8 mm

Girls pendant size: 15 mm x 6 mm

Metal: sterling silver or 14k yellow gold-plated silver

Handmade in Montreal, Canada
How to Keep Your Family Necklace Forever
Silver is easy to care for and will stay beautiful for a long time if you take good care of it. To ensure a long life for your family necklace, here are some tips:


Take it off before going under the water, whether in the shower, bath or pool.

To clean it, gently use a yellow polishing cloth. But don't polish your gold-plated jewelry! It could damage it. In this case, just use a soft cloth.

Store your necklace in an airtight plastic bag when you are not wearing it.
Receive Your Jewelry in a Nice Package
Every delivery of Lidia's jewelry is gift-wrapped and ready to give. By offering a necklace made in Quebec by an independent jeweler, you keep the carbon footprint of deliveries to a minimum.
---
FREE SHIPPING from $95 to Canada
Gift for Moms of 2 Girls - Sterling Silver Necklace
J'adore!
Un vrai bijoux en argent. Exactement comme présenté!
FAQ
What is the processing time for an order?
Silver and gold plated jewelry is shipped within 1 to 5 business days.

Solid gold jewelry is shipped within 8 to 15 business days.
Can I pick up my order at the studio?
You can pick up your order at the workshop
by appointment from Tuesday to Thursday from 10 a.m. to 5 p.m.
.
You just have to choose the "Pick up" option in the payment process. You will receive an email from Lidia within 1 business day to schedule a pickup appointment.
The studio is located at 2065, Parthenais, suite 030a, Montreal, QC, H2K 3T1.
What are the shipping options?
How do I keep my silver jewelry shiny?
Which chain length should I choose?
The most popular necklace length is 18 inches. So if you're unsure about what to choose, that might just be your best bet.
(Of course, the look varies depending on the body type.)