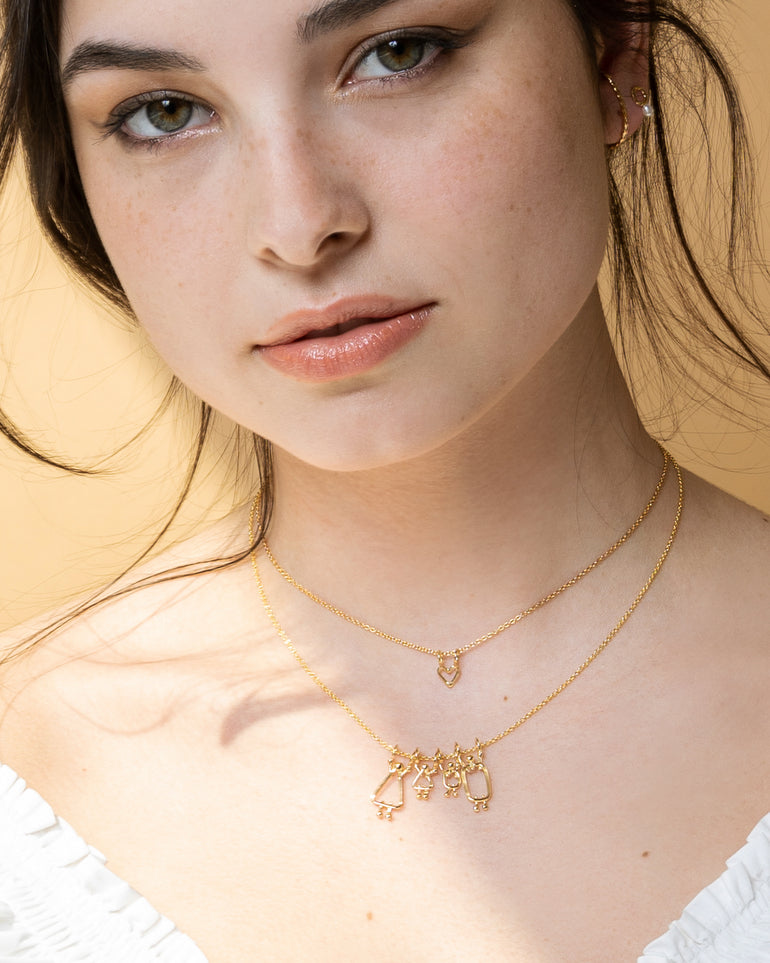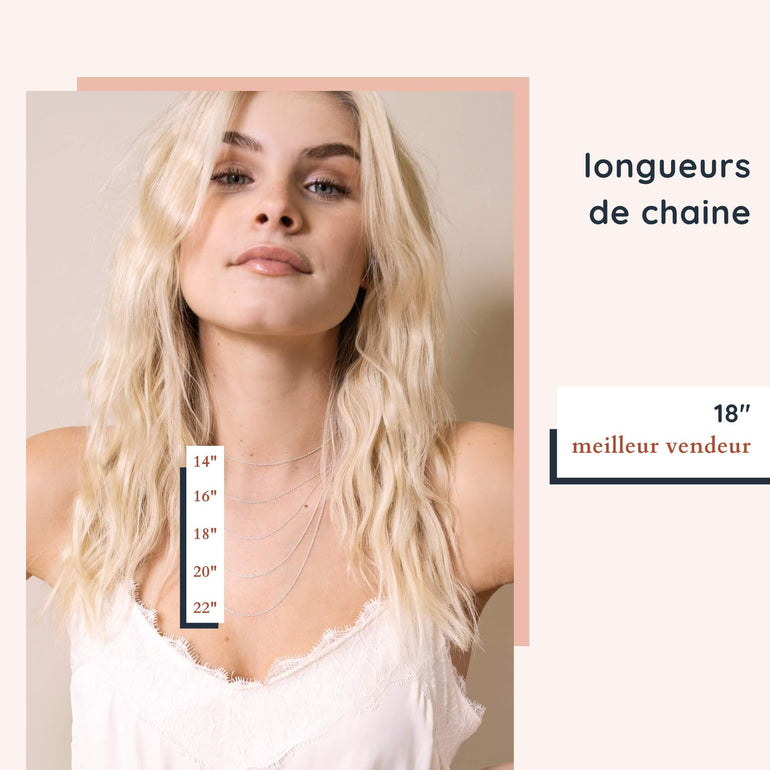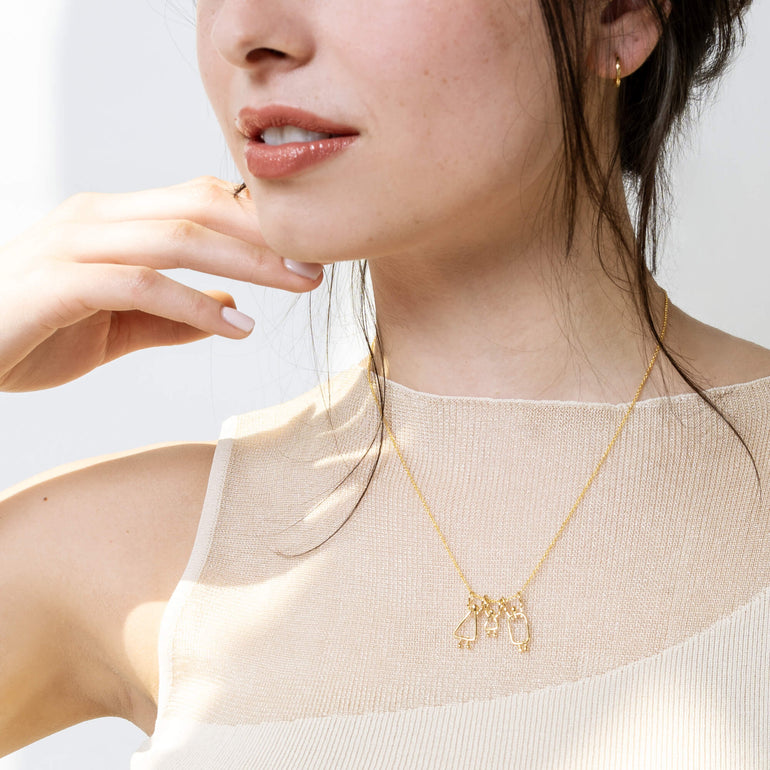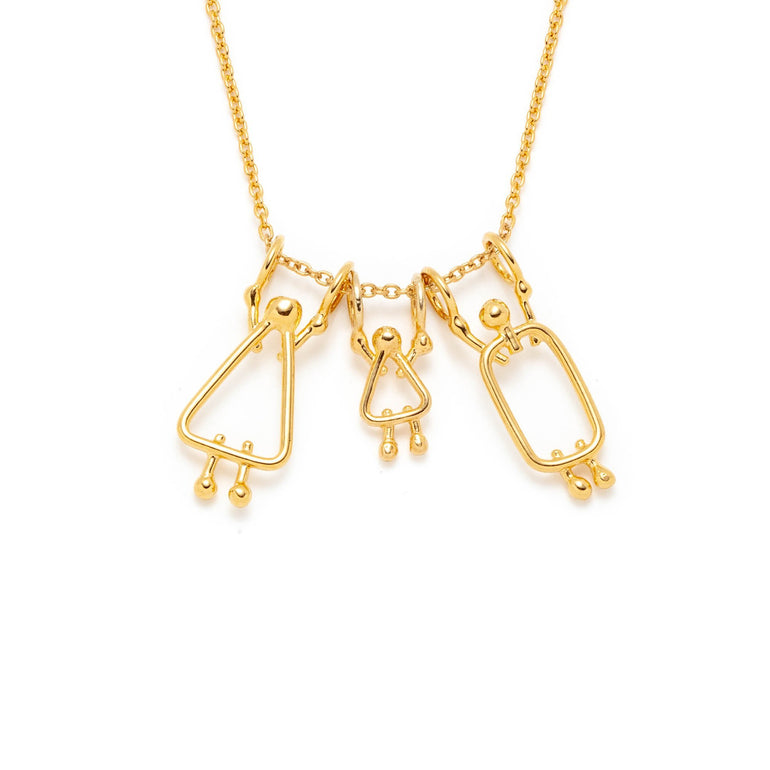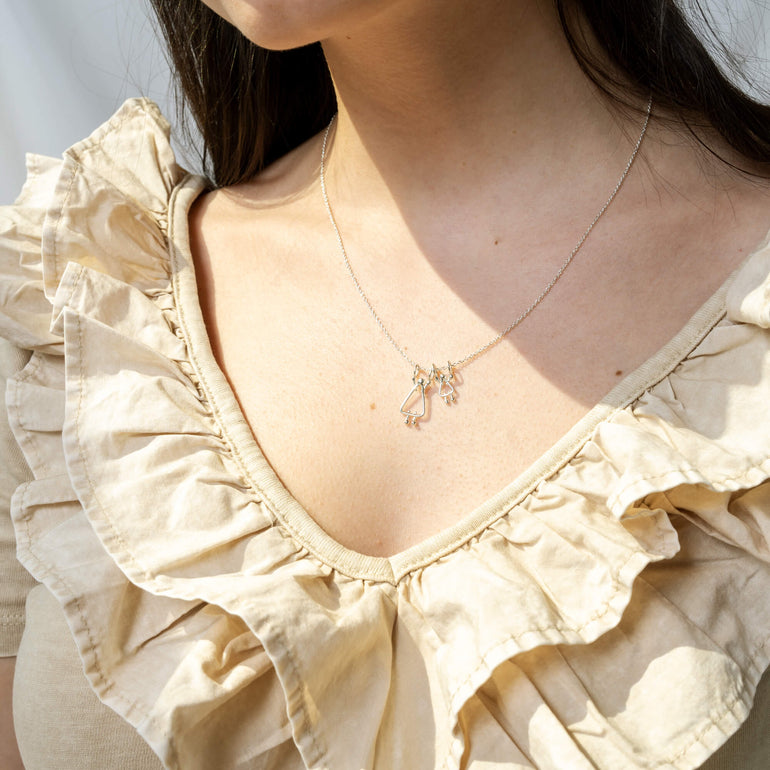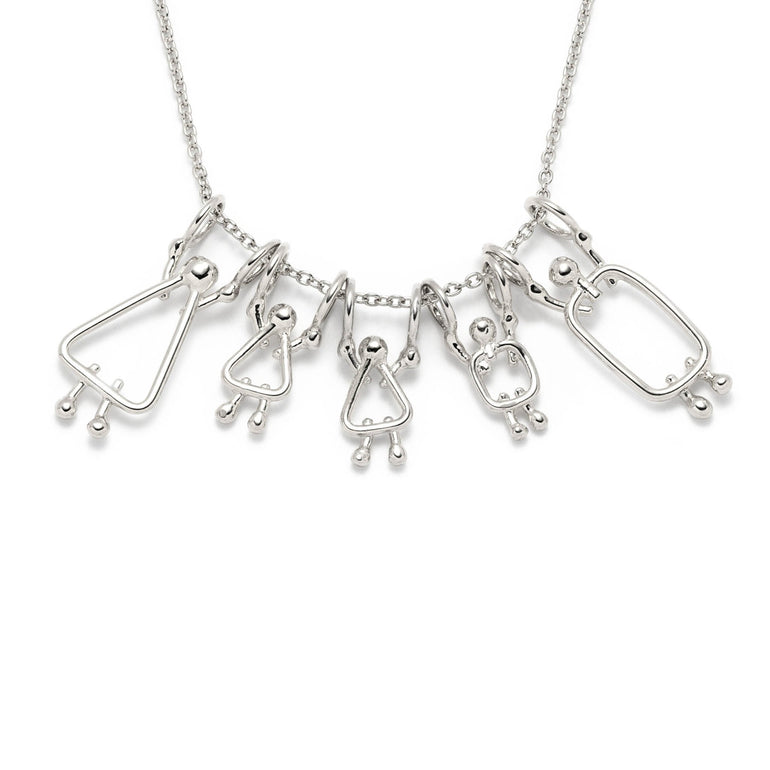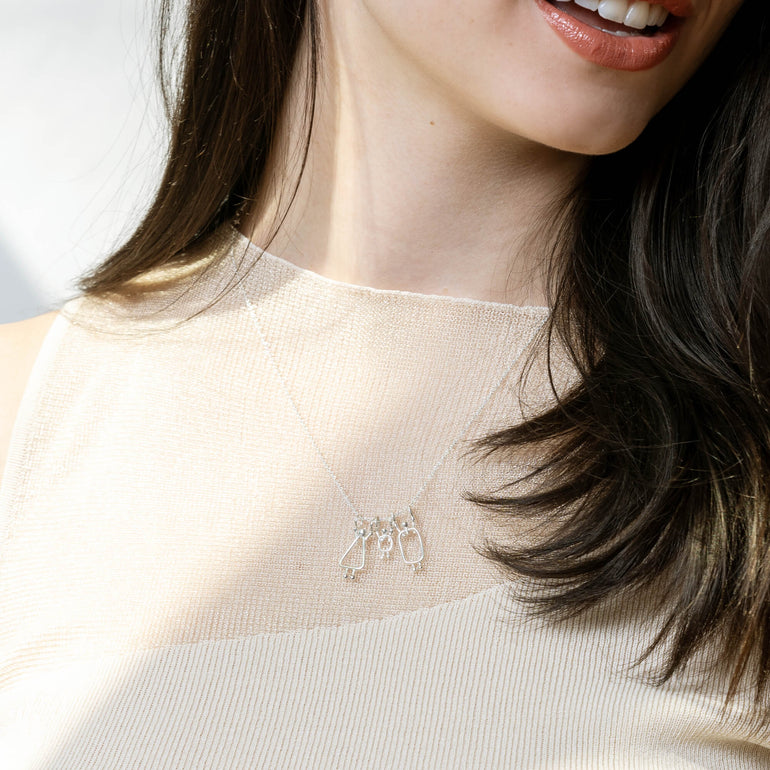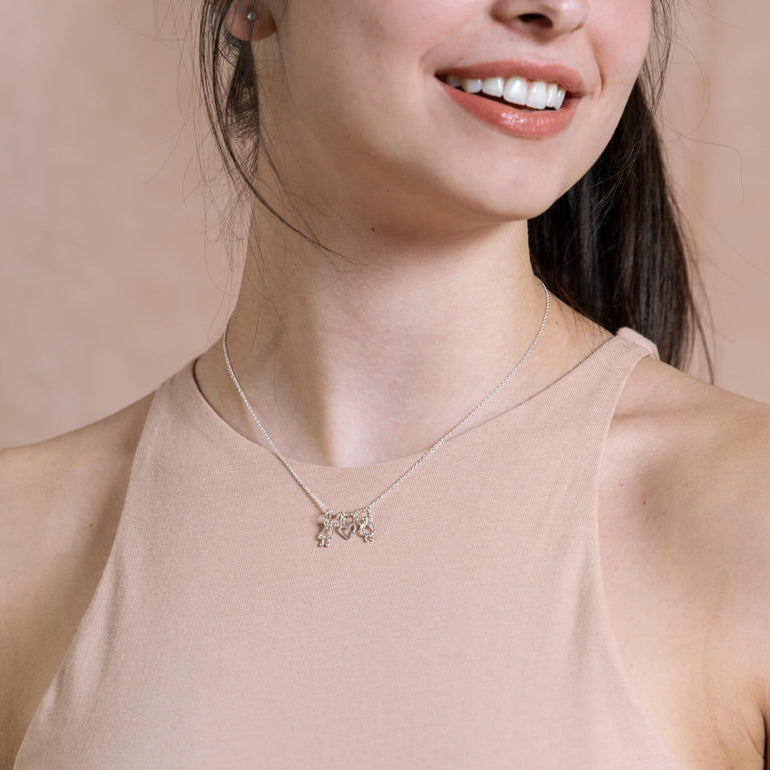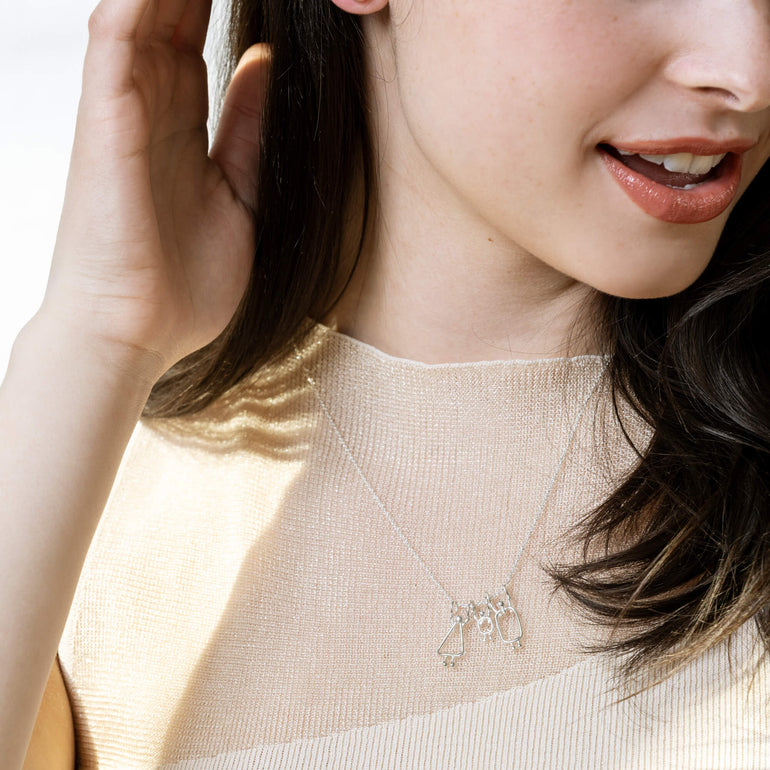 Personalized mom necklace canada
Craft a one-of-a-kind personalized necklace that encapsulates the essence of your family.
With our range of custom charms including moms, dads, girls, boys, cats, dogs, and hearts, you have the freedom to design a necklace that mirrors your family in the most charming way.

Embrace the joy of a new family member by simply adding an individual charm to the sterling silver or gold plated chain. This necklace, a versatile alternative to coloured birthstone jewellery, is an amazing gift for an awesome mom or grandma.
Make It Uniquely Yours:

Add Charms to Personalize Your Journey
It is also possible to purchase the charms separately at a later time, allowing you to expand and customize your necklace as your family grows or to add a personal touch. Our selection of individual charms provides endless possibilities for personalization, ensuring that your necklace remains a cherished keepsake for years to come.
Get a complimentary gift box
This personalized mom necklace is lovingly handmade right here in Montreal, Canada, reflecting our commitment to quality and attention to detail. Your necklace will arrive nestled in a complimentary beautiful gift box, ready to bring joy whether it's a gift to others or a delightful treat for yourself.
Custom-made Gift for a Baby Shower or a Birthday
This sterling silver necklace is a lucky charm, serving as a reminder of a special moment and the importance of family. Whether it's to celebrate the arrival of a new baby or to honor Mother's Day, it's a piece of jewelry that always surprises.

You can complete the jewelry set with earrings from the same collection.
Details on the Personalized Necklace
Chain length: available with a 16, 18 or 20 inch chain.

Dimension of mom charm: 22 mm x 9 mm

Dimension of dad charm: 22 mm x 8 mm

Dimension of the boy charm: 15 mm x 6 mm

Dimension of the girl charm: 15 mm x 6 mm

Dimension of the cat charm: 13 mm x 8 mm

Dimension of the dog charm : 13 mm x 8 mm

Dimension of the small heart charm: 11 mm x 8 mm

Metal: sterling silver or 14 karat gold-plated silver

Handmade in Montreal
How to Take Care of a 925 Sterling Silver Necklace
To keep your 925 sterling silver necklace looking its best, be sure to remove it before taking a shower or going to the pool or spa. 

To clean your silver jewelry, a soft polishing cloth will do. However, if your jewelry is gold-plated, avoid polishing it to avoid damaging the plating. Then, keep them in an airtight bag when you're not wearing them.
---
FREE SHIPPING from $95 to Canada
Personalized mom necklace canada
collier famille personnalisé pour maman
FAQ
What is the processing time for an order?
Silver and gold plated jewelry is shipped within 1 to 5 business days.

Solid gold jewelry is shipped within 8 to 15 business days.
Can I pick up my order at the studio?
You can pick up your order at the workshop
by appointment from Tuesday to Thursday from 10 a.m. to 5 p.m.
.
You just have to choose the "Pick up" option in the payment process. You will receive an email from Lidia within 1 business day to schedule a pickup appointment.
The studio is located at 2065, Parthenais, suite 030a, Montreal, QC, H2K 3T1.
What are the shipping options?
How do I keep my silver jewelry shiny?
Which chain length should I choose?
The most popular necklace length is 18 inches. So if you're unsure about what to choose, that might just be your best bet.
(Of course, the look varies depending on the body type.)