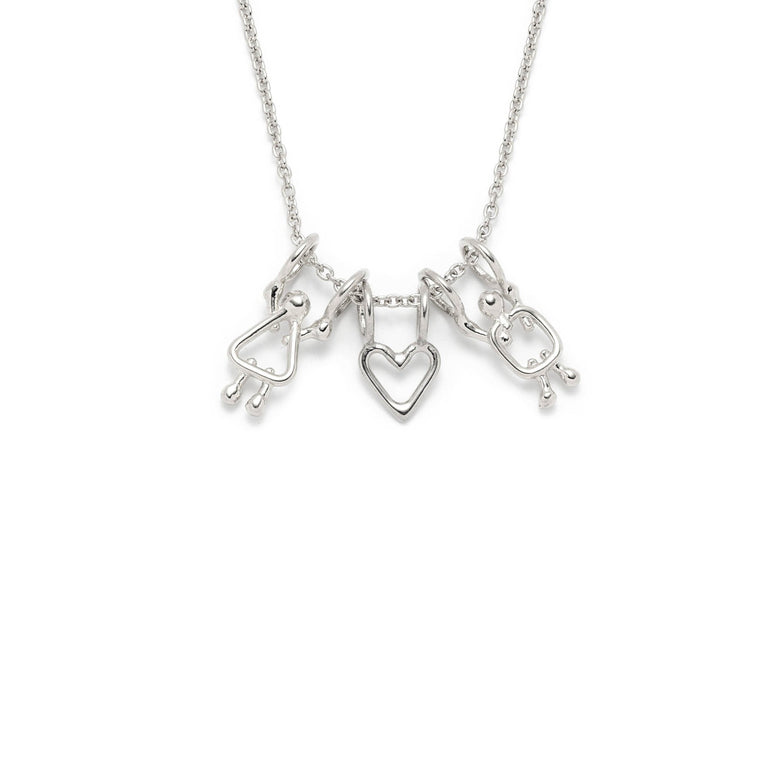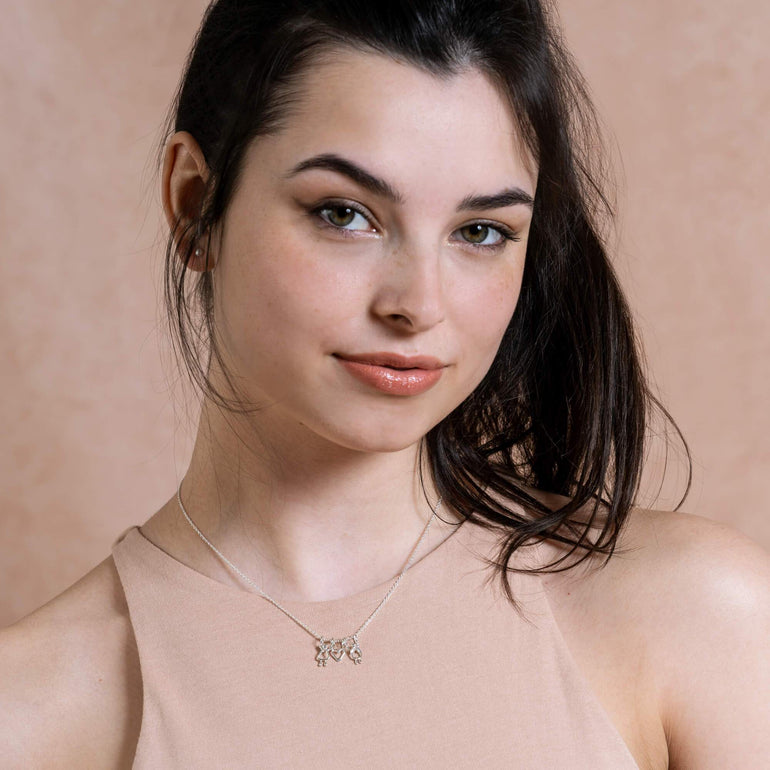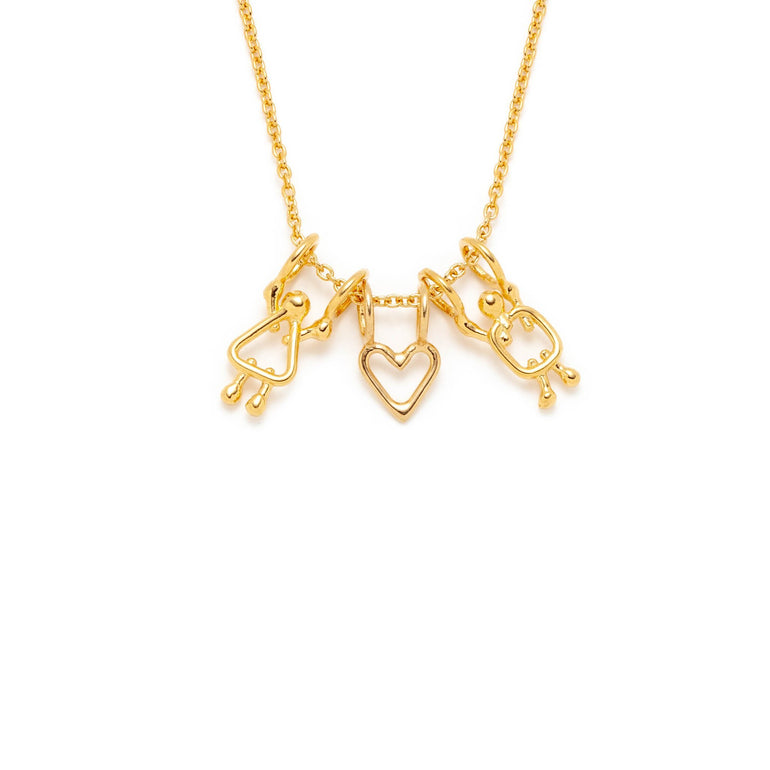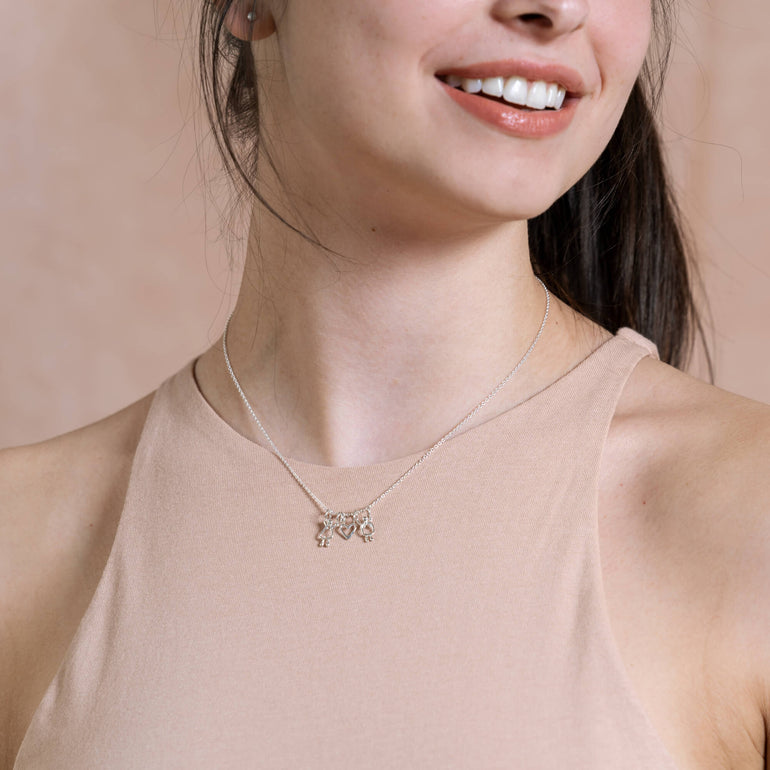 Gift for Grandma - Jewelry Handmade in Quebec
This necklace is a piece of jewelry that will touch every grandmother. The granddaughter, heart and grandson charms hang from a fine sterling silver chain. Handcrafted, this Quebec jewelry is both delicate and durable. Sterling silver or gold-plated silver is a durable material that retains its shine.

It's the perfect piece of jewelry to surprise a grandmother who loves her grandchildren... and already has everything she needs.
Ready to give, it comes in a pretty gift box that comes with every order.
Love the idea, but the charms don't fit your family? Create a 100% personalized necklace with the charms of your choice.
A Necklace that Evolves With the Arrival of Each New Grandchild
A brand new baby is coming into the family, yay! This is great news and makes all grandmothers crazy!
The great thing about this necklace is that you can always add new charms to it when new members join your family (I even thought about creating cat and dog charms because I know they are just as important as humans! 😉)
It's a keepsake she'll treasure for a lifetime and be proud to show off to her friends!
Gift Ideas Made in Quebec for Grandmothers
All of Lidia's jewelry is handmade by a professional jeweler (me!) in a Montreal workshop. By buying from a Quebec brand and an independent designer, you're encouraging the economy here. (Plus, I do a secret happy dance every time I get an order. 🥰)

Pair this necklace with assorted earrings to double the joy!
Details on the Grandmother's Necklace for a Granddaughter
Chain length: available with a 16, 18 or 20 inch chain.

Girl pendant size: 15 mm x 6 mm

Dimension of the heart pendant: 11 mm x 8 mm

Boy pendant size: 15 mm x 6 mm

Metal: sterling silver or 14k yellow gold plated-silver

Handmade jewel in Quebec
Tips for Caring for Sterling Silver Jewelry
To keep sterling silver jewelry in good condition for a long time, here are some tips you can pass on to the one you're giving the gift to:


Remove silver jewelry to go underwater (Yes, yes, in the shower too!).

Sterling silver is a material that stays beautiful for a long time, but if the jewelry loses some of its shine, you can gently rub it with a yellow polishing cloth. Be careful not to polish gold-plated jewelry! You could damage the plating.

Always keep silver jewelry dry when it is not being worn. Therefore, do not leave them in the bathroom or near the humidifier.
Delivered in a Nice Gift Box
To thank you for choosing my company for your jewelry purchases, I offer each order in a nice gift box, free of charge, to simplify your life.
---
FREE SHIPPING from $95 to Canada
Gift for Grandma - Jewelry Handmade in Quebec
Excellent necklace!!
Beautiful and original necklace! Perfect gift for any mother. Made of quality materials for a very affordable price.
The shipping and delivery were super fast. I highly recommend Lidia.
FAQ
What is the processing time for an order?
Silver and gold plated jewelry is shipped within 1 to 5 business days.

Solid gold jewelry is shipped within 8 to 15 business days.
Can I pick up my order at the studio?
You can pick up your order at the workshop
by appointment from Tuesday to Thursday from 10 a.m. to 5 p.m.
.
You just have to choose the "Pick up" option in the payment process. You will receive an email from Lidia within 1 business day to schedule a pickup appointment.
The studio is located at 2065, Parthenais, suite 030a, Montreal, QC, H2K 3T1.
What are the shipping options?
How do I keep my silver jewelry shiny?
Which chain length should I choose?
The most popular necklace length is 18 inches. So if you're unsure about what to choose, that might just be your best bet.
(Of course, the look varies depending on the body type.)