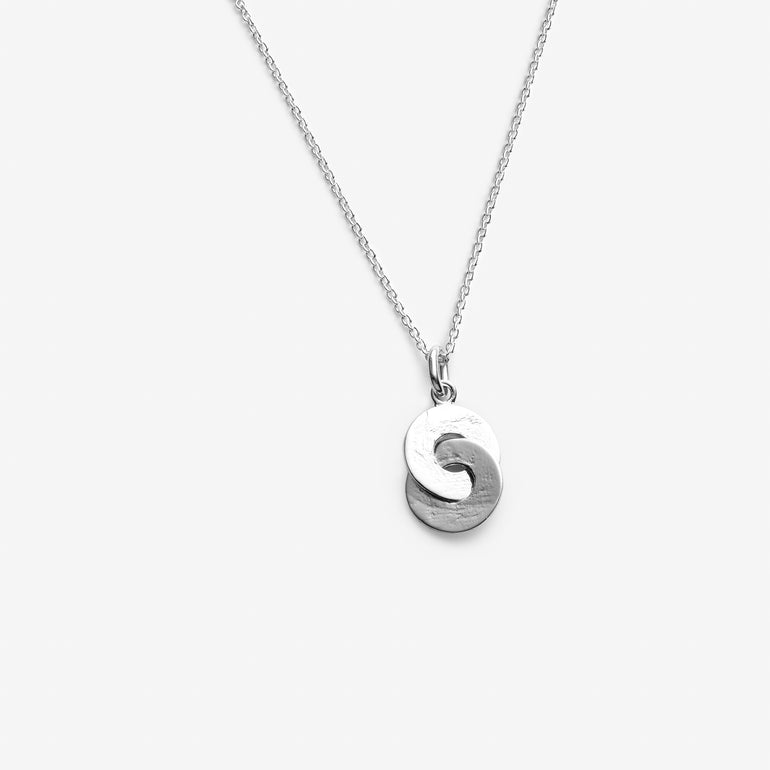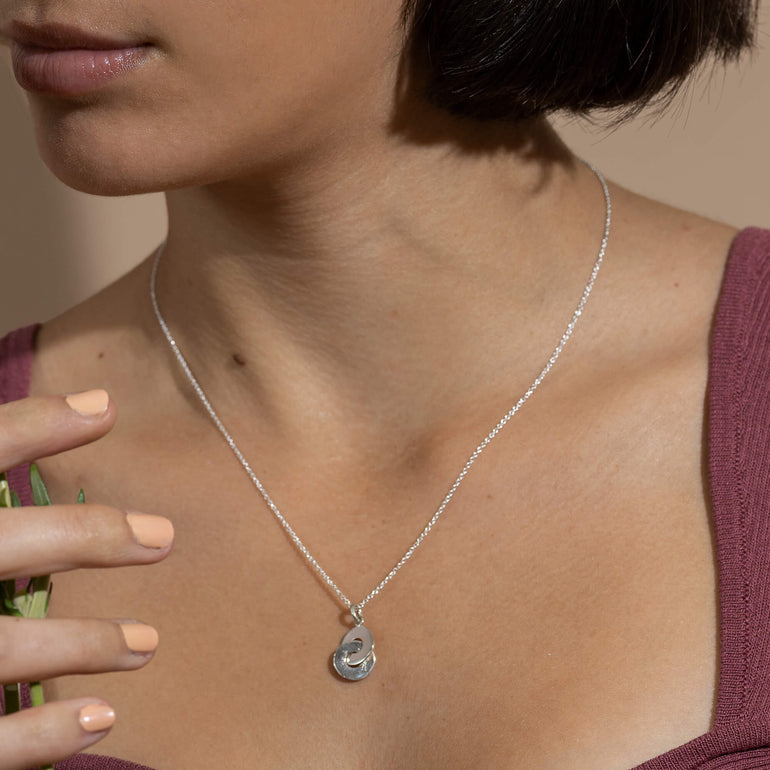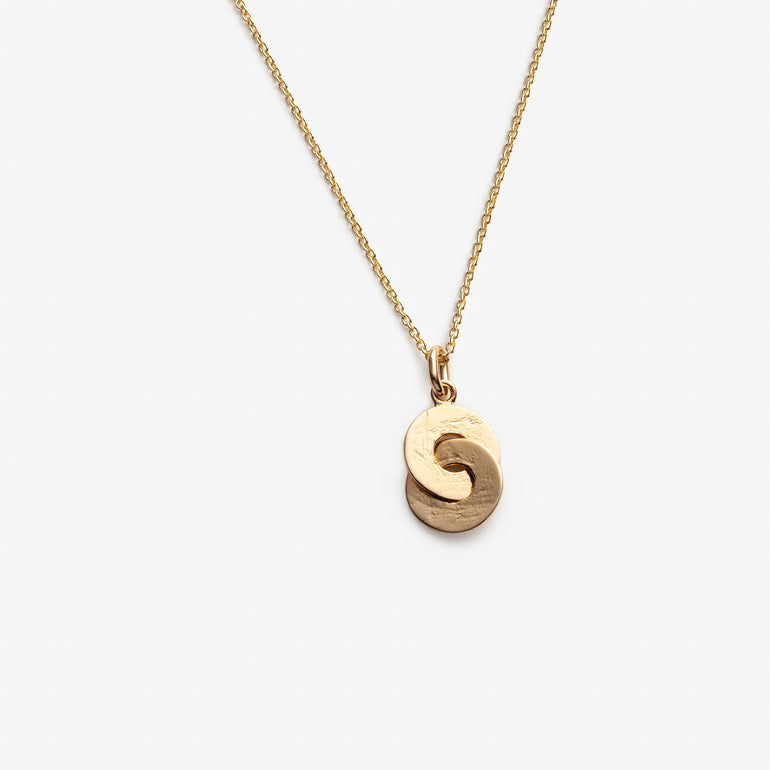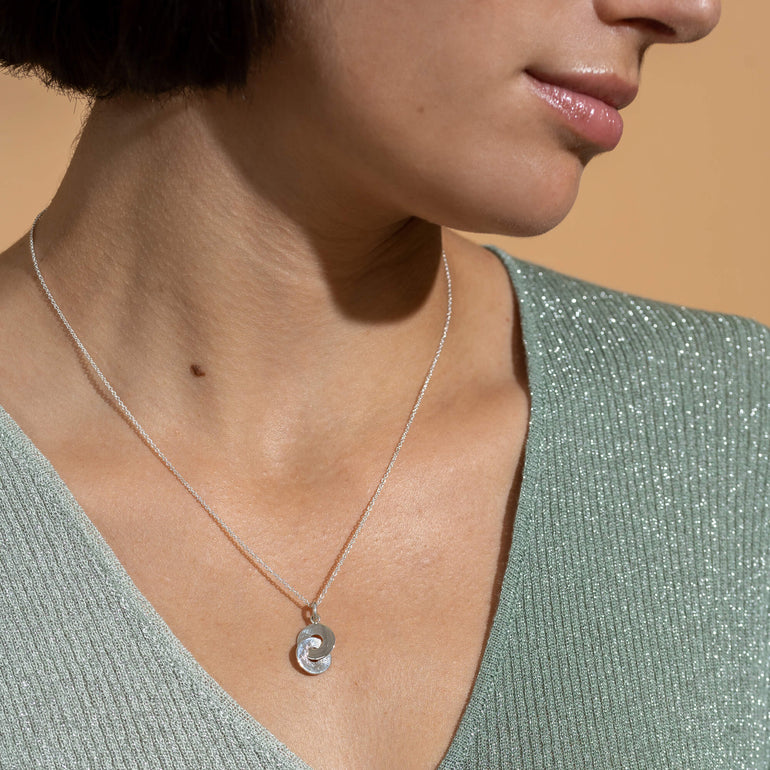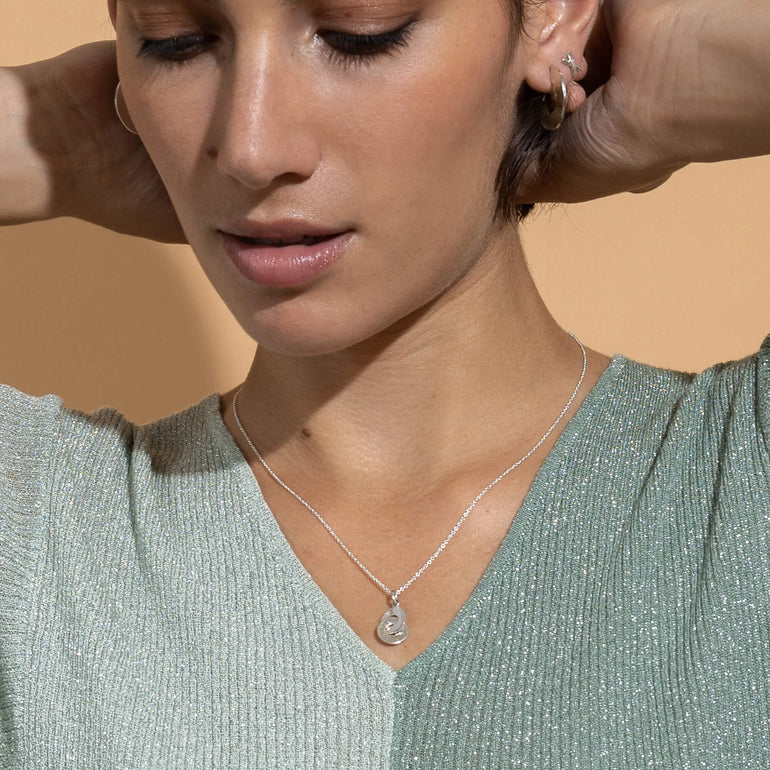 Engagée - Necklace With Intertwined Circles Pendant
The pendant of this sterling silver necklace is made of 2 flat intertwined circles. They are made entirely of textured sterling silver, hand assembled, and worn on a delicate chain.

The chain for this necklace is available in a length of 16, 18 or 20 inches, depending on whether you want a short or long necklace. By choosing the right length, you can easily create a necklace overlay with the ones you already have.

The same design of intertwined circles can be found on the Astucieuse and the Fonceuse earrings. By creating the set, there is no need to search for what to wear!

The chain and pendant are available in silver or gold-plated depending on your preference.
Two Circles to Represent the Strength of Your Commitments
"All is in all", as they say. When you are committed, you give your heart and soul to a cause. When you are truly committed to a relationship, you create a strong bond with the other person. That's what this pendant symbolizes.

All jewelry in the Je suis collection is named after a quality that makes you unique.
Chain With Pendant
Chain length: available with a 16, 18 or 20 inches

Pendant size: 22 mm x 11 mm x 3 mm

Metal: 925 sterling silver or 14 karat gold-plated silver

Handcrafted by a professional jeweller
Shipped in a Nice Gift Box
Lidia's jewelry orders are always shipped in a beautiful gift box, no matter the reason! Whether it's for a birthday, Mother's Day or Christmas, and even if it's not to give to anyone but you, everyone gets the same special attention.
How to Take Care of 925 Silver Jewelry
To keep your sterling silver chain and pendant looking good for as long as possible, here are some easy tips to follow:

Store them in an airtight plastic bag in a dry place.

When you're not wearing them, avoid leaving them in the bathroom, as moisture can accelerate oxidation.

Gently rub your pendant with a yellow polishing cloth, if necessary. Be careful, this is not recommended for gold-plated jewelry.

Finally, remember to take off your necklace when you go in the water, especially if it is in water with chlorine, like the pool or spa.
Handmade in Montreal
Lidia makes all her sterling silver pendants, earrings and rings in her Montreal workshop. Each piece is lovingly handcrafted to make the women who wear them feel like the best version of themselves. Each piece of jewelry is inspected to ensure that you are always satisfied.

---
FREE SHIPPING from $95 to Canada
Engagée - Necklace With Intertwined Circles Pendant
Perfection
Complètement satisfaite de mon achat. Le collier est magnifique.
Collier avec pendentif de cercles entrelacés
Magnifique collier délicat et harmonieux.
FAQ
What is the processing time for an order?
Silver and gold plated jewelry is shipped within 1 to 5 business days.

Solid gold jewelry is shipped within 8 to 15 business days.
Can I pick up my order at the studio?
You can pick up your order at the workshop
by appointment from Tuesday to Thursday from 10 a.m. to 5 p.m.
.
You just have to choose the "Pick up" option in the payment process. You will receive an email from Lidia within 1 business day to schedule a pickup appointment.
The studio is located at 2065, Parthenais, suite 030a, Montreal, QC, H2K 3T1.
What are the shipping options?
How do I keep my silver jewelry shiny?
Which chain length should I choose?
The most popular necklace length is 18 inches. So if you're unsure about what to choose, that might just be your best bet.
(Of course, the look varies depending on the body type.)