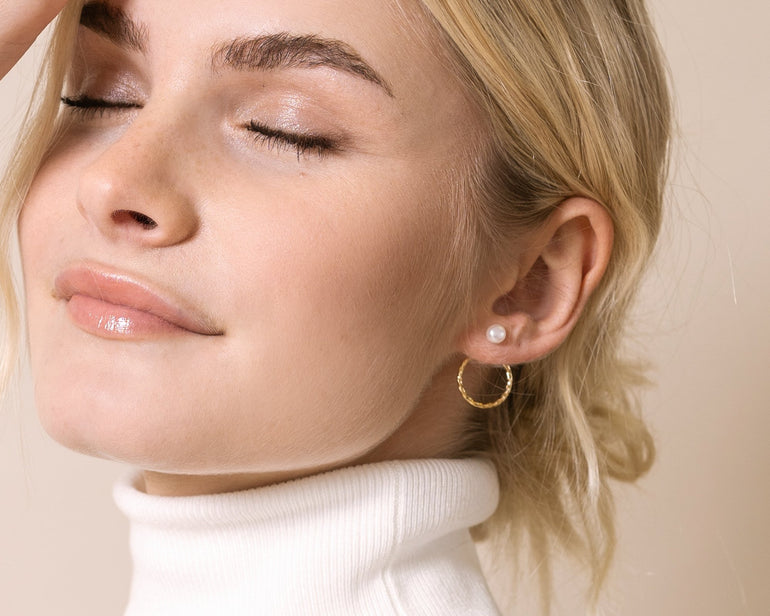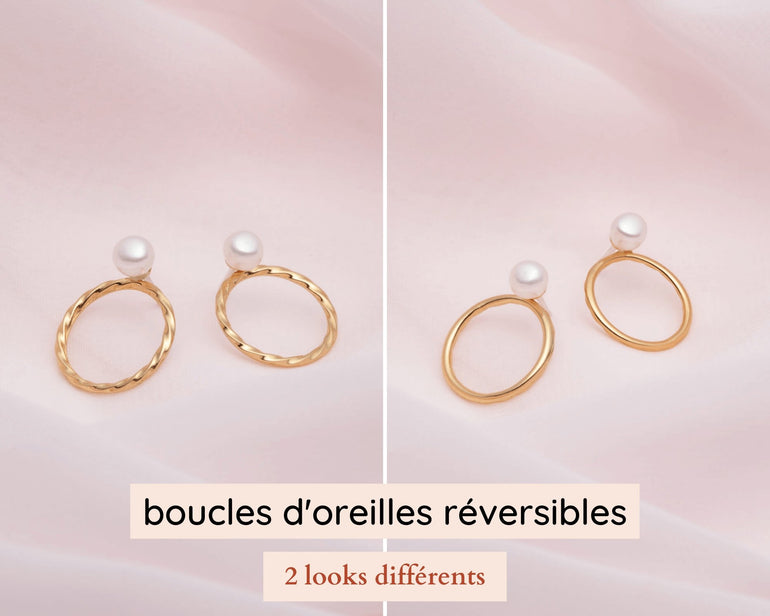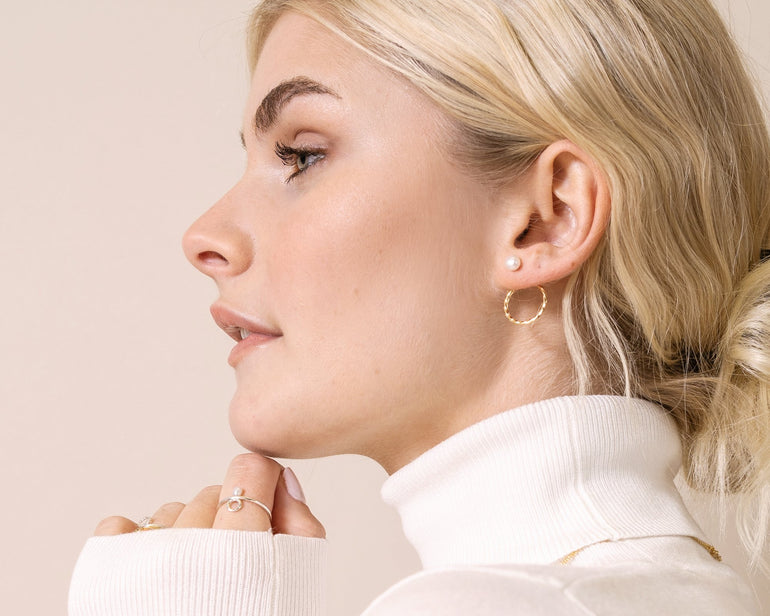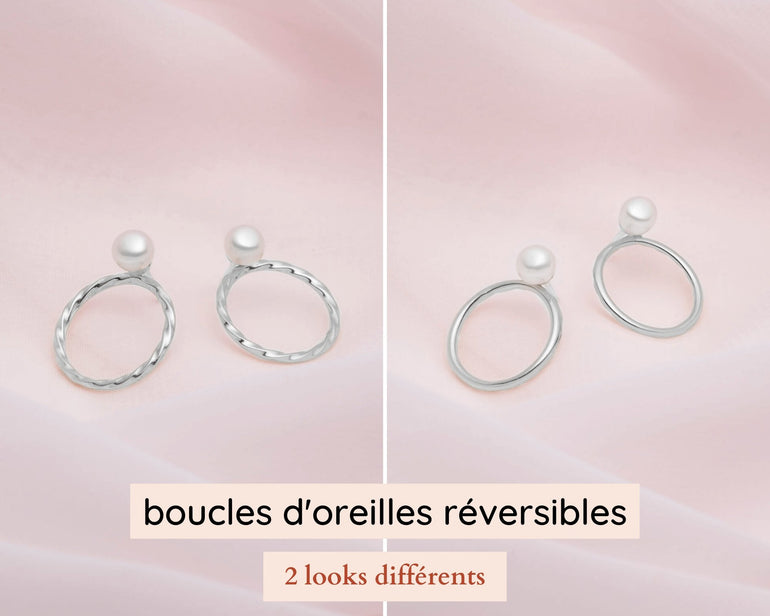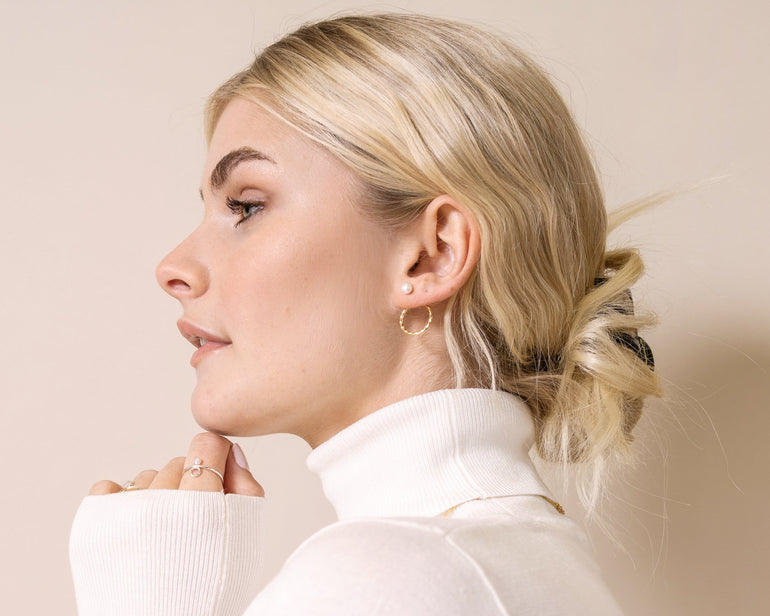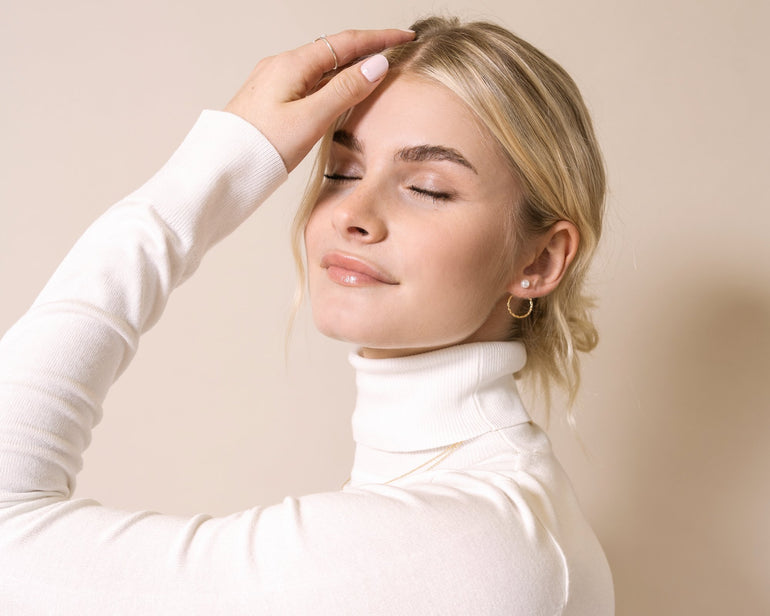 Style versatility
For the modern woman seeking subtle elegance and looking to add a touch of sophistication to her everyday wardrobe, our minimalist "ear jackets" earrings go beyond being just a piece of jewelry.

Carefully crafted in Quebec, these earrings are a true statement of style, perfectly aligned with contemporary femininity.
Absolute comfort
We understand the importance of comfort for discerning women who want to combine style and well-being. That's why our earrings have been specially designed to offer unparalleled lightness and absolute comfort. You can wear them all day long without compromising your well-being.
Create 5 looks with a single pair of earrings
Explore the countless possibilities offered by our "ear jackets" earrings and create personalized looks that reflect your individuality. You have multiple options for wearing them and expressing your unique style.

The first option is to showcase the white pearl on its own, adding a subtle touch of sophistication to your ear. This is the perfect choice when you prefer simplicity and elegance, while adding a refined note to your outfit.

You can also opt for a bold and modern configuration by placing the metal circle in front of your ear. This arrangement will beautifully accentuate your ear, captivating attention with a contemporary touch.

If you prefer a more discreet approach, position the metal circle at the back of your ear to create a delicate contrast. This subtle option adds an additional dimension to your earrings, with a touch of chic and elegance.
In addition to that, our "ear jackets" earrings feature a unique characteristic: the circles have a different texture on each side. On one side, you'll find a smooth and shiny surface, while on the other side, the texture is subtly textured.

This combination offers even more possibilities to customize your look by rotating the circles according to your preferences and playing with the different textures, creating unique combinations.
Quality materials for exceptional durability
Material quality is a priority for us, as we aim to provide you with products that will stand the test of time. That's why we have meticulously selected precious materials such as sterling silver and 14K yellow gold-plated sterling silver. These premium materials ensure exceptional durability and a lasting shine that will accompany you for years to come.
Details on the 5 in 1 Minimalist Ear jackets
Circles size: 17 mm in diameter
Size of the white pear pearls: 5 mm in diameter
Closure: posts and backs (Posts and backs are not plated on the gold plated version.)
Metal: sterling silver or 14k gold plated silver (1 micron)
Handmade jewelry from Montreal
Express your unique style
Discover the perfect blend of versatility, style, and comfort with our "ear jackets" earrings. Add a touch of sophistication to your everyday look with these refined pieces of jewelry that elegantly accompany you.


---
FREE SHIPPING from $95 to Canada
ear jackets avec perles blanches
Magnifiques
J'ai aperçu les bijoux dans une boutique près de chez moi et j'ai eu un coup de coeur. J'ai visité le site internet et j'ai acheté les deux modèles (argent et or) tellement j'aimais le concept des ear jackets! Elles sont vraiment magnifiques et se portent de plusieurs façon alors ça fait un petit changement avec le même bijou (devant ou derrière le lobe, côté lisse ou texturé ou juste les perles). Bravo.
FAQ
What is the processing time for an order?
Silver and gold plated jewelry is shipped within 1 to 5 business days.

Solid gold jewelry is shipped within 8 to 15 business days.
Can I pick up my order at the studio?
You can pick up your order at the workshop
by appointment from Tuesday to Thursday from 10 a.m. to 5 p.m.
.
You just have to choose the "Pick up" option in the payment process. You will receive an email from Lidia within 1 business day to schedule a pickup appointment.
The studio is located at 2065, Parthenais, suite 030a, Montreal, QC, H2K 3T1.
What are the shipping options?
How do I keep my silver jewelry shiny?
Which chain length should I choose?
The most popular necklace length is 18 inches. So if you're unsure about what to choose, that might just be your best bet.
(Of course, the look varies depending on the body type.)