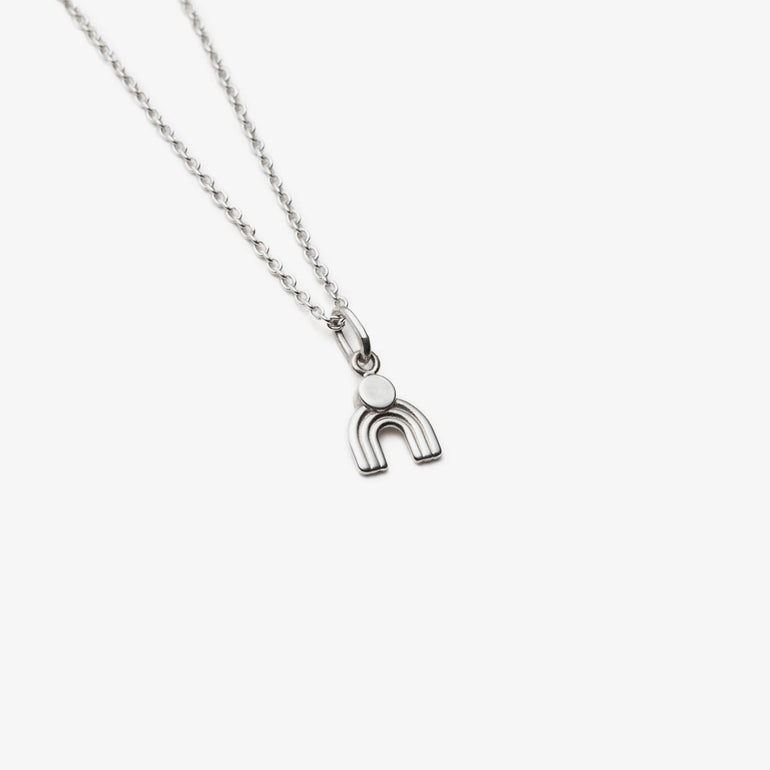 dainty rainbow charm necklace
Ça va bien aller
Do you need a little help to get through containment?!! You found it! Here is a cute rainbow necklace with meaning. Give yourself superpowers with this make a wish necklace.
A piece of silver minimalist jewelry handmade for you in Montreal.
More than a rainbow necklace
I have to warn you. This is not ONLY a dainty rainbow charm necklace. No, no. This is a piece of handmade minimalist jewelry that will give you the courage to go through your day.
Rainbows are well known to provide chance. Who doesn't want some?
How a rainbow is formed?
We all know a rainbow appears when it's raining a slight ray of sun goes through. How would you like to be a little sunshine yourself? For you. For the people you love.
It is so rewarding.
What is your goal today?
Finish an important work task?
Spend quality time with your kids?
Take well deserved time for yourself?
You'll find all the strength you need while wearing your dainty rainbow charm necklace.
Whatever you put your mind on, you can do it.
What is this make a wish necklace made of?
Well, you can pick your favorite material for your dainty rainbow charm necklace. Here are your options :
sterling silver
polished sterling silver
14k yellow gold plated sterling silver
14k rose gold plated sterling silver
14k solid gold
solid 14k yellow gold
solid 14k rose gold
solid 14k white gold
chain
You can choose your favorite length for your make a wish necklace.
16"
18" (the bestseller! If you don't know which to pick, go with this one!)
20"
Dimensions of this minimalist jewelry handmade in Montreal
This meaningful rainbow necklace is 0.7 x 0.7 cm. Its dainty and adorable shape is perfect for you to wear it every day.
Coz let's be honest, you want superpowers daily, right?

You love rainbows but prefer bigger jewelry?
(Or maybe you need a lot of chance?!!!) This rainbow pendant necklace is intended for you. You'll love its minimalist look and this jewelry is also handmade here in Montreal.
There is sunshine after rain
No matter the obstacles crossing your path, remember you are radiant and invincible.
But a cute rainbow necklace with meaning couldn't hurt! Don't you think?
Allow yourself to shine. You can do this.
P. S.: Take no chance. Double your strength. Wear these minimal earrings with your necklace and watch your wish come true.
---
FREE SHIPPING from $95 to Canada
dainty rainbow charm necklace
FAQ
What is the processing time for an order?
Silver and gold plated jewelry is shipped within 1 to 5 business days.

Solid gold jewelry is shipped within 8 to 15 business days.
Can I pick up my order at the studio?
You can pick up your order at the workshop
by appointment from Tuesday to Thursday from 10 a.m. to 5 p.m.
.
You just have to choose the "Pick up" option in the payment process. You will receive an email from Lidia within 1 business day to schedule a pickup appointment.
The studio is located at 2065, Parthenais, suite 030a, Montreal, QC, H2K 3T1.
What are the shipping options?
How do I keep my silver jewelry shiny?
Which chain length should I choose?
The most popular necklace length is 18 inches. So if you're unsure about what to choose, that might just be your best bet.
(Of course, the look varies depending on the body type.)